Hi everyone,
not sure if anyone has ever had an issue with their kids trick n treat bags breaking in the middle of the road. I know I have...lol It just isnt fun.
also, the fight over whos bag was who's. Oh wait, thats probably in just my family.
Well the munchkins and I have a solution, canvas bags. Each bag can have your child's name on it. If you dont want your childs name on it (for fear of being kidnapped), you can have each child just have a different design to their liking to avoid the confussion.
Plus, oh yea, there is more. They are only 15.75"h x 15.25"w. The size is perfect. I know when kids go out with 'pillow cases', it looks like they didnt get much candy. Its a visual thing.
anyway, these bags are affordable and environment friendly Halloween tote! You can also get in the spirit of Halloween when your shopping, since their great for carrying books and groceries too. They are made with 100% cotton, and reinforced stitching on handles to make sure they don't rip when carrying all your loot.
Plus, the price is only $9.95. You can get as many as you want.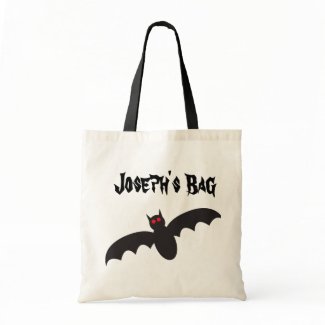 halloween bag
by
munchkin_designs
and don't forget to look around for some of your Halloween needs.
to purchase any of these items, click here